So after recently referbishing my old Commodore Amiga 500 and relising that the image produced on my LCD TV from the Amigas output was not particulary clear. I decided to investigate why. I've always remembered the Amiga to have a very clear tv image. But the last time I used an amiga was many years before LCD tvs were even available. There are ways to improve the look of older machines on newer TVs with the likes of scan doubles etc. But after days of reading blogs and forums and looking at youtube videos, I concluded that the cheapest and most authentic way of using my amiga would be to resort to a CRT or Cathode Ray Tube monitor.
The monitor that was very popular when sold as new and still the most popular in the retro computer communty is the Philips CM8833-ii.
So whats the best all round CRT Screen for Retro Gaming, vintage consoles and computers? Without a doubt the best and most versatile CRT Screen/Monitor is the Philips CM8833-ii. A crystal clear image from an analogue RGB or composite input with built in speakers. It has a Horizontal scan rate of 15.625 KHz and a vertical scan rate of 47-62.5 Hz with a pixel resolution of 640 x 256. Continue reading to discover why;
The CM 8833/11 is a versatile multipurpose 14-inch colour monitor that offers excellent colour graphics performance for a wide range of home and personal computers, including Atari ST and Commodore Amiga.
This model has built-in stereo loudspeakers, and can be used as a video monitor with a VCR, camcorder or TV tuner. The CM 8833/11 can also be used as a CGA colour monitor with IBM PC compatible computers.
Resolution 640 dots (horizontal) x 285 lines (vertical)
Versatile colour monitor for IBM PC compatibles and computers with analog video output
TTL-digital and RGB-analog computer input signals
CVBS input for video signals
Stereo sound with earphone socket
Dark glass screen
High-resolution video monitor, also suitable for use with VCR, camcorder, TV tuner or laptop computer
Text switch for optimum text display
What Kind of Picture Quality Does a Philips CM8833-ii Have?
You will see a massive improvement in picture quality from using a CRT TV with RF or Composite video to using this monitores RGB input.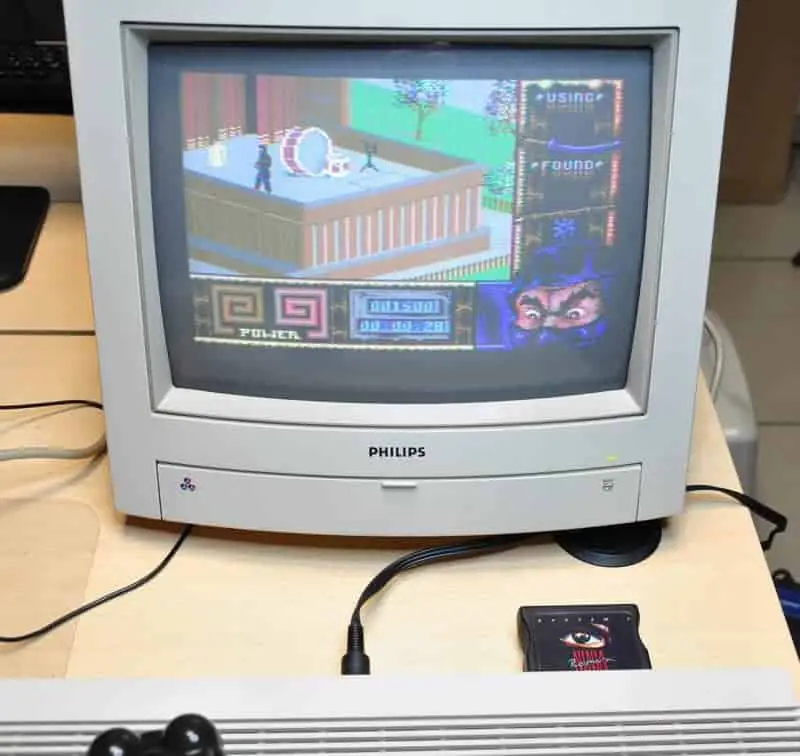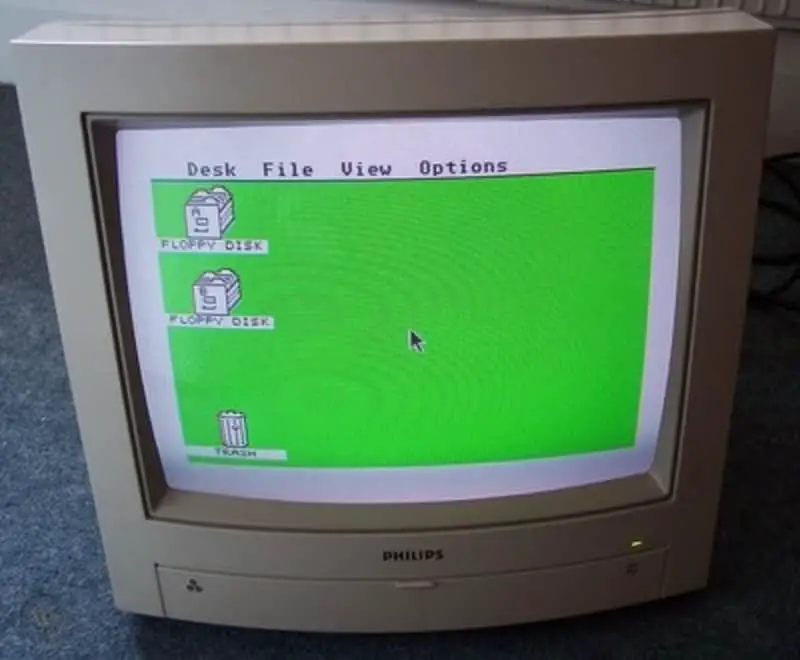 Is the Philips 8833 mk2 much better than the mk1?
Where to find rgb cable for Phillips CM8833-II
| | |
| --- | --- |
| Technical Specifications | |
| CRT | 14 inch/36 cm, 90° |
| Tube type | Slotted dark glass, 46% light transmission |
| CRT pitch | 0.42 mm |
| Cabinet colour Input signals: | Beige |
| RGB-analog | 9-pin D-shell connector |
| RGBI-TTL | 9-pin D-shell connector |
| Fast blanking | Pin 6 of 9-pin D-shell connector |
| CVBS | Cinch connector with automatic VCR switch |
| Audio (stereo) channels No. of colours: | Cinch connectors for left and right |
| RGB-analog | All |
| RGBI-TTL | 16 |
| CVBS | All |
| Bandwidth at -3 dB | > 6.5 MHz |
| Horizontal resolution | 640 dots |
| Vertical resolution | 285 lines |
| Line frequency | 15.6 kHz |
| Frame frequency | 50/60 Hz |
| No. of characters | 12000 |
What Connections and Controls does the Philips CM8833-ii have on the Back?
The rear of the case contains:
3 Pin Power Inlet
Horizantal Size Control for Ajusting the width of the image
Vertical Size
Vertical Shift
Analogue/TTL Switch
RGB Input (9 pin D-type)
Composite Video
Audio in

What Computers will the Philips CM8833-ii work with?
There are many vintage computers compatable with this monitor. Basically any computer with a composite or RGB output.
Some of the compatable systems
Commodore 64
Commodore 128
Commodore 16
ZX Spectrum 128
Commodore Amiga 500
Commodore Amiga 500 Plus
Commodore Amiga 600
Commodore Amiga 1200
Commodore Amiga 1000
Commodore Amiga 1500
Commodore Amiga 2000
Commodore Amiga 3000
Commodore Amiga 4000
Atari 520STF
Atari 520 STFM
Atari 520 STE
Atari 1040 STFM
Atari 1040 STE
What Consoles with the Philips CM8833-ii work with?
Nearly all old games consoles with an RGB or Composite output will work with this monitor.
Sega Master System
Sega Genesis
Sega Megadrive
Sega Saturn
Sega Dreamcast
Nintendo Entertainment System
Nintendo Famicom
Nintendo 64
Nintendo Gamecube
Nintendo Wii
Atari 2600
Where can I Buy one?
The best place to get one in good condition is still Ebay, click the following link to look on EBAY:
https://www.ebay.com/sch/i.html?_from=R40&_trksid=m570.l1313&_nkw=Philips+CM8833&_sacat=0&LH_TitleDesc=0&_osacat=0&_odkw=Philips+CM8833-ii