After resurecting my old ZX Spectrum and realising that the only way I could currently use it was to dust of my old 14inch CRT Television. I decided to investigate ways I might be able to use it with a more modern Television or monitor. Depending on which model of ZX Spectrum you are using, heres what I have found:
The TV output of the original ZX Spectrum was using an old analogue RF modulator that could only be tuned into a Television with an RF tuner. All old CRT TVs had these and also some of the early flat screens. More recent TVs only have a digital tuner and are incombatable with the ZX Spectrums RF modulator.
Interestingling the signal that goes into the RF modulator on the inside of the spectrum is of a more useful system. This signal is an analogue composite signal. Most modern TVs still can display this signal though the picture quality may not be quite as good as modern HDMI images.
Options for the ZX Spectrum 16K, 48K or ZX Spectrum+
These earlier Spectrums have only one TV output and require modification or expansion to be able to connect them to a modern television. There are two options.
RF to HDMI Converter
One of the easiest ways to connect any ZX Spectrum is to connect a converter to the RF coaxial cable output of the Spectrum to a coaxial cable to HDMI converter and plug that directly into your TV. This method more than likely will have the lowest quality image quality but is definatly and cheap and fast way of connecting any ZX Spectrum to any modern television. Check out this article here to find out more about how to convert coaxial cable to HDMI.
Simple Composite Modification
If you own a ZX Spectrum 16K , 48K or ZX Spectrum+ a simple modifcation can be made to the internal RF modulator so the spectrum outputs a composite signal that can be displayed on a modern TV. This requires opening your spectrums case and cutting and resoldering some connections. For a detailed guide with images on how to do this mod check out this article here https://retrotechlab.com/zx-spectrum-composite-video-output-mod-a-detailed-guide-for-beginners/.
Convert composite signals to VGA here: Check out Amazon
You can now convert the Composite output to HDMI with one of these low cost converters: Check them out here: https://amzn.to/3bwJrbk
Or you can convert the Composite output to HDMI with an OSSC Open Source Scan Converter here: on Amazon.
Using HDMI for Higher Quality Image
For the best quality output that is compatable with all TVs and monitor with a HDMI input an interface is now available that connects to the spectrum's expansion port.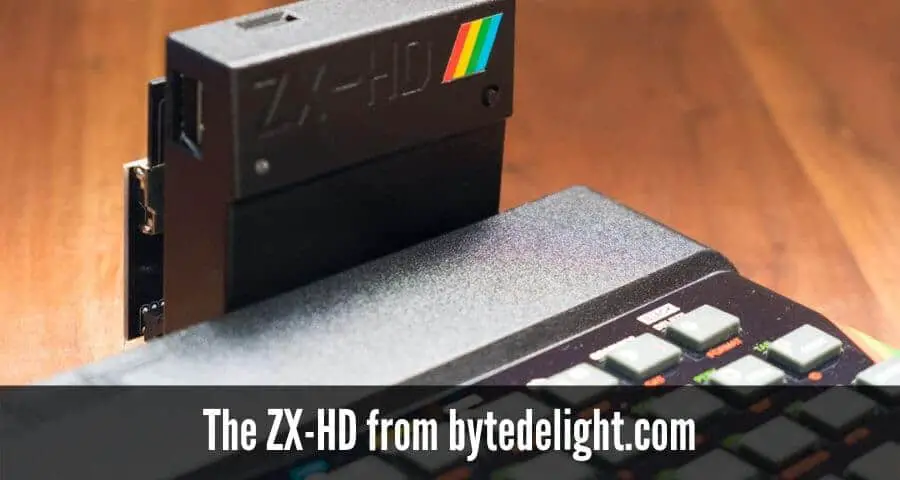 The ZX-HD gives the best picture quality available from a ZX Spectrum. It uses a the HDMI port from a Raspberry PI and allows you to connect it directly to your spectrum and any HDMI Screen. It also adds ULAPlus, a capability which provides supporting games to use an expanded palette of 64 colours. The ZX-HD is available from here > https://www.bytedelight.com/?product=zx-hd-hdmi-interface-with-ulaplus
Connect a ZX spectrum to a VGA monitor or VGA compatable Televsion
If your TV has a VGA connector or you have a VGA monitor spare that you would like to use your Spectrum with you can use a product called the ZX VGA JOY this can be found here: http://zx-vga-joy.com/ .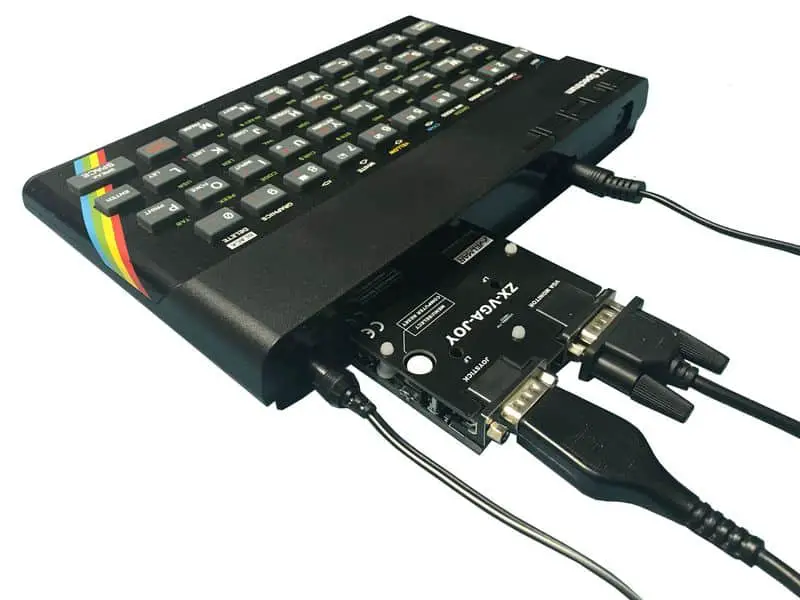 The ZX-VGA-JOY is 100 percent compatible with all of the Sinclair and Amstrad ZX Spectrum range . It just plugs directly into the Spectrum's expansion port.
There is also a Kempston compatable joystick interface on board.
For more information, check it out here
You can but one from here.
Another VGA option is THIS
ZX Spectrum 128k, ZX Spectrum +2, ZX Spectrum +3