ZX Spectrum Voltage Regulator Replacement
Both the Sinclair ZX81 and ZX Spectrum are renound for getting very warm after a few hours of use. Looking inside the case it is possible to see where this heat is eminating from. You might be wondering if something can be done about this as the heat can affect reliability of the componants and may cause damage over time.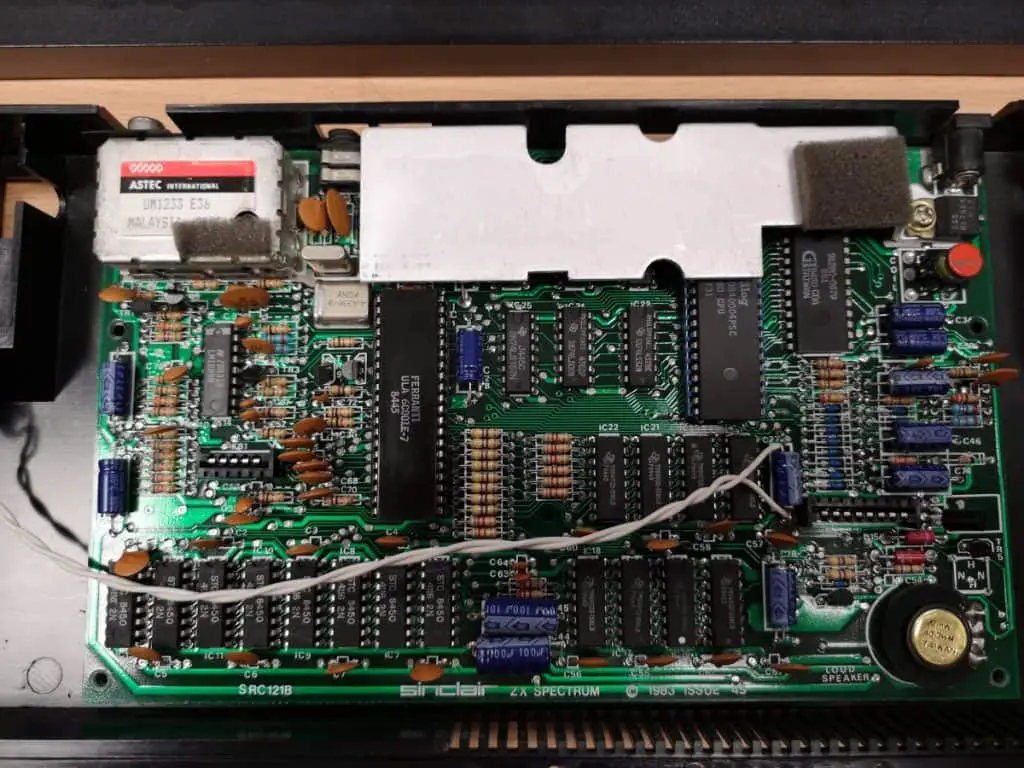 Here I have opened up a ZX Spectrum +, internally it is identical to any of the rubber keyed ZX Spectrums. Looking at the above photo use can quite clearly see the large metal heat-sink at the top of the picture. This is where all that heat is coming from as it is screwed to a componant called a voltage regulator. This voltage regulator produces a lot of heat and needs the heat sink to be attached so the heat is spread over a larger area to remove the heat away from the componant.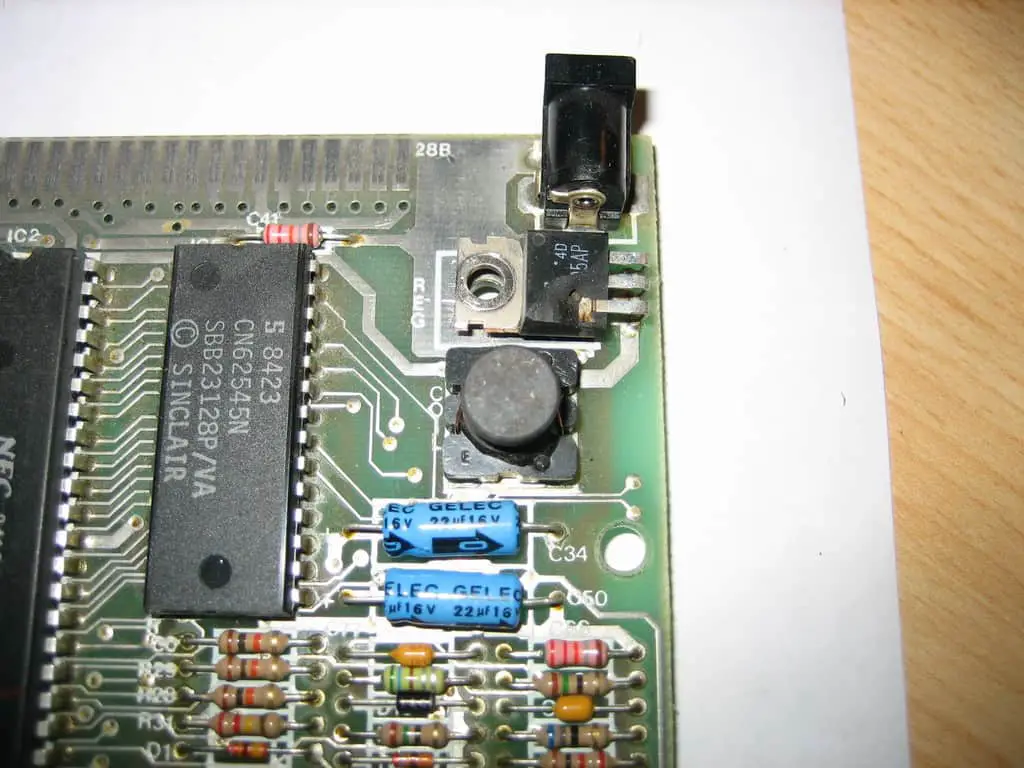 The regulator that is fitted in the factory is a 7505 linear regulator. The ZX Spectrum and ZX Spectrum + have the stated input voltage of 9V. Most of the different model power supply units shipped with ZX Spectrums actually have a 12V output. Depending on which ULA chip and the manufacturer of the RAM chips that the Spectrum has; the current drawn is around 650mA. All original Spectrums were shipped with a 700mA PSU but the newer designs came with a 1.5A power supply.
The original regulator is rated at 1 Amp and generates 5VDC. There is also a -5VDC and +12VDC used by the RAM and video chip generated from the input supply. This original linear regulator is only about 40 percent efficient and wastes a lot of energy as unnessesary heat.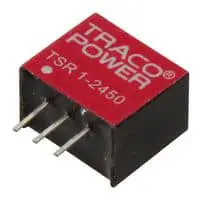 The Traco Power TSR 1-2450 switch mode regulator is a direct replacement for a 7805. It takes in the DC voltage and generates 5V DC out using a more efficient switch mode power supply design. This regulator is about 90% efficient, and will generate little to no heat so remove the need for any type of heat-sink. This voltage regulator draws about half the power of the original one for the same output. (7805, 12V @1A to get 5V @ 1A, TSR1-2450, 12V @ 400mA to get 5V @ 1A). The same Spectrum that uses about 650mA dropped to 400mA with the new more efficient regulator.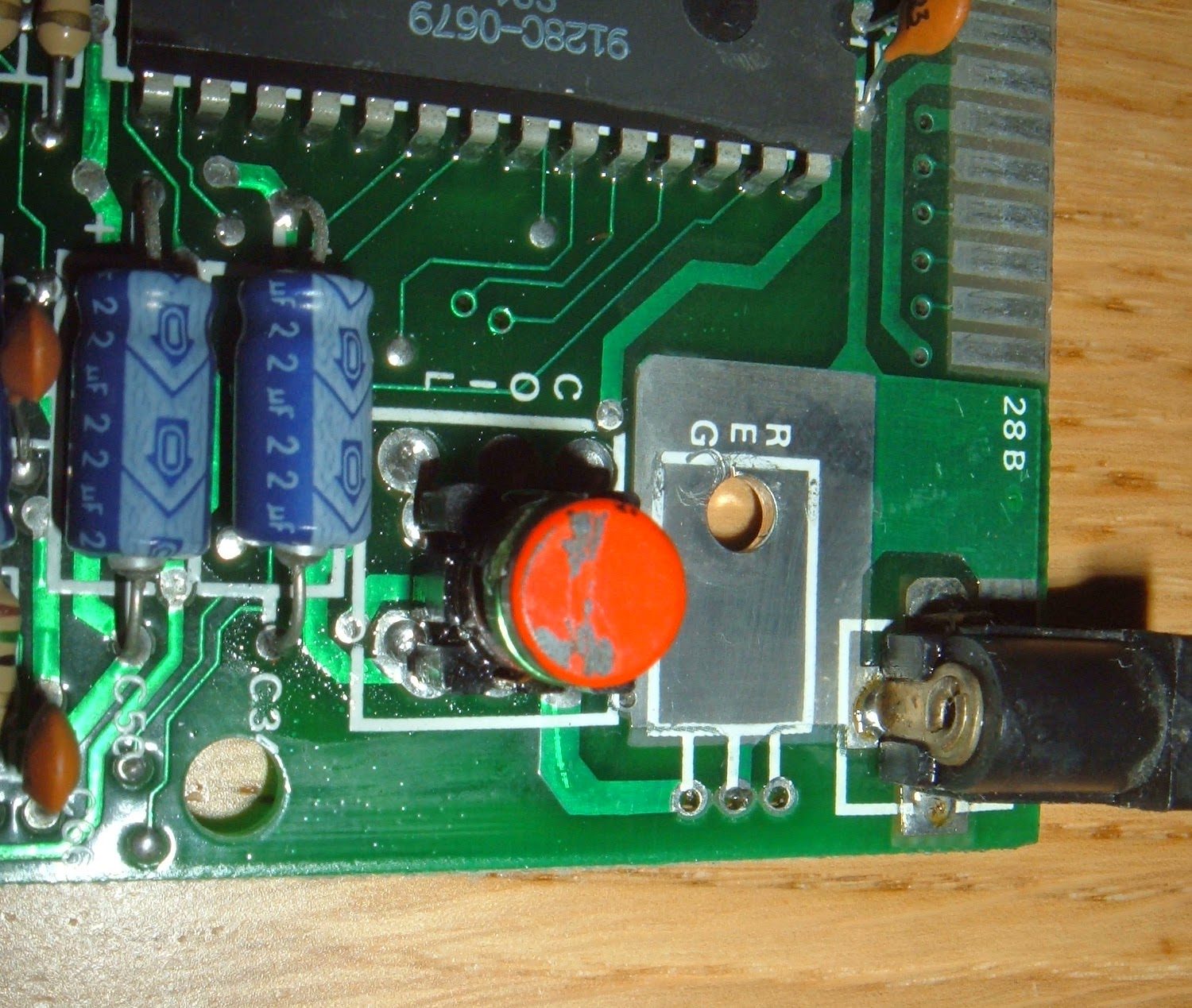 The Traco Power TSR 1-2450 switch mode regulator is a drop-in replacement and has the same pin configuration so after removing the old 7805 regulator and heat-sink; you can just solder in the TSR 1-2450 directly in its place.
After replacing this regulator your Spectrum will run much cooler and have a much better chance of surviving many years to come.
Many other computers and consoles can be modified in the same way as the original 7805 regulator has been used in devices such as the Nintendo Entertainment System, Atari 2600, ZX81, Sega Megadrive and Commodore 64.